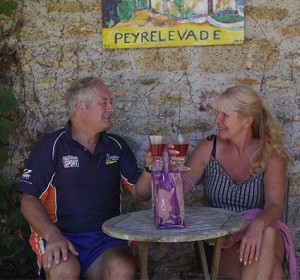 My name is Ruud Truijens and my wife is Arna op ten Berg. We are both in our early fifties. Since February 2007 we are the proud owners of Peyrelevade, which is situated on the borders of Dordogne and Lot and Garonne. With the acquisition of our estate Peyrelevade, we started our own "house under the sun ", which for us, is a dream-come-true.
Arna graduated from the Academy of Sports and started teaching Gymnastics at a Secondary school in The Hague. After finishing her degree in Economics, she started teaching both Sports and Economics there. Later she moved up to a Secondary Vocational school to teach Business Economics there. Nowadays she combines her job as a teacher in the Netherlands with her life in France
Straight from school, I joined the Marine Corps. After six years I made a career move and started being an entrepreneur and bought my own pub. After eight years I sold the pub and started working in the sports business and became, among other things, a manager at the local Rugby club: "The Hague Rugby Club".       By the way, my all-time favourite sport is Rugby and for a Rugby fan, the region we live in, is a true paradise!! We will receive you at Peyrelevade with open arms and hope that you will love and enjoy the French way of living just as much as we do!!
Ruud and Arna